Home >> Toolkit >> brant fMRI
brant_fMRI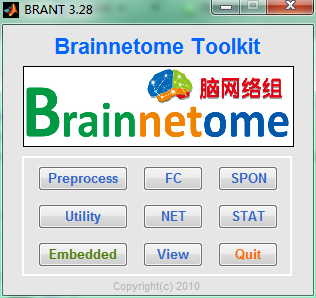 From DICOM to Result, Brat

Made it Easy

!!
• One-Stop Solution

• User-friendly GUI

• Simple and Easy

• Small yet Useful

Introduction
---
Brainnetome toolkit (brat) refers to the construction and assessment of brain network used to evaluated brain network architecture about MRI imaging data. These ideas have been instantiated in software that is called Brainnetome toolkit(brat).
The brat package has been designed for the analysis of brain network based on spm (http://www.fil.ion.ucl.ac.uk/spm/). The images can from different cohorts, or time-series from the same subject. The current release is designed for the analysis of fMRI, EEG.
It includes the proprecessing steps, functional connectivity analysis, network analysis and network view etc.
Get Started
---
Download @nitrc the Soft and then unzip it to a directory. For example: D:\brat
Add Path:
Run Matlab, change path to D:\brat
then run
>> brat_updatepath
>>brat
you can get the gui of brainnetome toolkit (brat) or download @ nitrc
---
Manul
you can find the manal file @../brat/man
---
Latest News
---
Version 2.0 beta

May 26, 2015

Version 0.9

May 25, 2014

Version 0.5

Dec 5, 2013
The lastest version can be download and ask for suggestion now!!